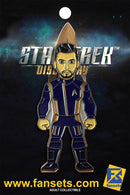 Description
(Portrayed by Shazad Latif)
A Starfleet Officer in the federation and prisoner-of-war, Tyler has seen the dark side of Starfleet's battle with the Klingons.
What are his secrets?? Only time will tell!
Payment & Security
Your payment information is processed securely. We do not store credit card details nor have access to your credit card information.