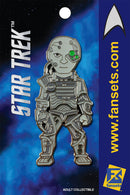 Description
Pins shown larger than actual size for detail.  Actual Size = 2"
Quote "We are the Borg. Your biological and technological distinctiveness will be added to our own. Resistance is futile."
The Borg are a collection of species that have been turned into cybernetic organisms functioning as drones in a hive mind called "the Collective" or "the Hive". The Borg use a process called assimilation to force other species into the Collective by injecting microscopic machines called nanoprobes.-Wikipedia.
TM & © 2016 FanSets, LLC ARR
Payment & Security
Your payment information is processed securely. We do not store credit card details nor have access to your credit card information.