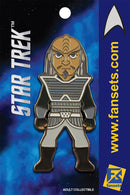 Description
Pins shown larger than actual size for detail.  Actual Size = 2"
Quote "A fool and his head are soon parted."
Klingons are recurring antagonists in the 1960s television series Star Trek: The Original Series, and have appeared in all five spin-off series, along with eight of the feature films. Initially intended to be antagonists for the crew of the USS Enterprise, the Klingons became a close ally of humanity and the United Federation of Planets in Star Trek: The Next Generation.
TM & © 2016 FanSets, LLC ARR.
Payment & Security
Your payment information is processed securely. We do not store credit card details nor have access to your credit card information.