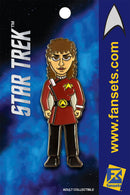 Description
Pins shown larger than actual size for detail.  Actual Size = 2"
The Dec 5th release!!
Quote "Sir, may I quote General Order Twelve"
Lieutenant junior grade Saavik was a Vulcan Starfleet officer who, in the mid 2280s, served aboard both the USS Enterprise and the USS Grissom. Of particular note was her involvement with the failed Genesis project. Saavik explained to Kirk how his son had died bravely saving her as well as Spock from the Klingons. She remained on Vulcan with Spock's mother.-Memory Alpha
TM & © 2016 FanSets, LLC ARR.
Payment & Security
Your payment information is processed securely. We do not store credit card details nor have access to your credit card information.