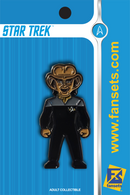 Description
Our tribute character pin to one of the best! We love and miss you Aron.... Thank You!
Nog was a Ferengi male who lived during the latter half of the 24th century. A resident of Terok Nor during the Occupation of Bajor, and a former waiter at Quark's, Nog became the first Ferengi to enter Starfleet, and served aboard Deep Space 9 and the USS Defiant during many of the most important battles of the Dominion War.*
Memory Alpha
Approximately 2 inches (5.08 cm)

Easy to display with FanStands (sold separately)

Quality rubber pin backs

Officially licensed Star Trek product

Backer card that can be used for display
Payment & Security
Your payment information is processed securely. We do not store credit card details nor have access to your credit card information.