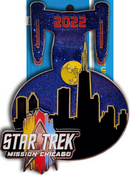 Description
Our signature show pins done in blue glitter to represent the Chicago night. The pin is over 3 inches long and is cleverly hosted by the Enterprise 1701-D in the background.
This is almost sold out (Easy to see why) 
Payment & Security
Your payment information is processed securely. We do not store credit card details nor have access to your credit card information.