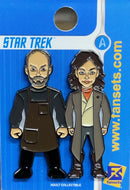 Description
Laris
Prior to her relocation to Earth, Laris had been a member of the Tal Shiar, and part of her duties at Château Picard included Picard's security.
Zhaban
Zhaban was a 24th century Romulan male who worked as a housekeeper in the service of Jean-Luc Picard alongside Laris since the 2380s. He was a close confidant and advisor of Picard, and they held each other in high regard.
Approximately 2 inches (5.08 cm)
Easy to display with FanStands (sold separately)

Quality rubber pin backs

Officially licensed Star Trek product

Backer card that can be used for display
Payment & Security
Your payment information is processed securely. We do not store credit card details nor have access to your credit card information.