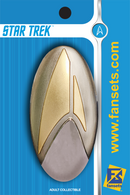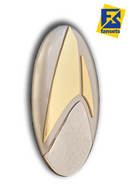 Description
Star Trek: Discovery Season 3 Delta– FULL SIZE PIN Licensed FanSets 

Our Deltas Done Right program continues with this highly anticipated release.
This Delta comes to you directly from the 32nd Century and Star Trek Discovery series Season 3. As seen worn by the crew. It is full size. While manufactured with FanSets normal attention to detail this was not created to be a cosplay piece. This is not a prop replica. FanSets Deltas are known for their attention to detail.
Payment & Security
Your payment information is processed securely. We do not store credit card details nor have access to your credit card information.