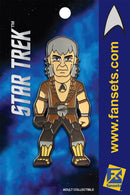 Description
Pins shown larger than actual size for detail.  Actual Size = 2"
(final product may vary from image shown)
Quote "Revenge is a dish best served cold"
Khan Noonien Singh (or simply, Khan) was an extremely intelligent and dangerous superhuman. He was the most prominent of the genetically-engineered Human Augments of the late-20th century Eugenics Wars period on Earth. Khan was considered, by the USS Enterprise command crew, over three centuries later, to have been "the best" of them. Reappearing with a cadre of Augment followers in the 23rd century, Khan became a notorious enemy of James T. Kirk. Khan's existence as an Augment served, as well, as a warning to society of the danger in attempting to create "supermen" through technological means.- Memory Alpha
TM & © 2016 FanSets, LLC ARR
Payment & Security
Your payment information is processed securely. We do not store credit card details nor have access to your credit card information.