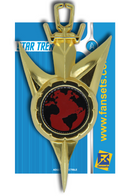 Description
This is the Magnetic version.
*In 2256, the Empire under Emperor Philippa Georgiou continue to fight the rebellion under the Klingon Voq. During this time, Georgiou's adviser, Captain Gabriel Lorca of the ISS Buran and her own adopted daughter Captain Michael Burnham of the ISS Shenzhou both planned a coup to overthrow her. However, Burnham and Lorca were both hunted and believed to have been killed. In truth, Lorca somehow switched place with his counterpart in the prime universe.
*Memory Delta
Payment & Security
Your payment information is processed securely. We do not store credit card details nor have access to your credit card information.