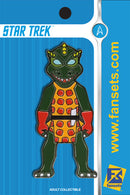 Description
Pins shown larger than actual size for detail.  Actual Size = 2"
Quote "I weary of the chase. Wait for me. I shall be merciful and quick."
The Gorn's first contact with the Federation took place in 2267, when the Gorn attacked a Federation colony on Cestus III. The Gorn saw the strike as a preemptive move, since they regarded the Cestus system as part of their territory.-Memory Alpha
TM & © 2016 FanSets, LLC ARR.
Payment & Security
Your payment information is processed securely. We do not store credit card details nor have access to your credit card information.