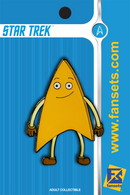 Description
From Star Trek Lower Decks comes the mischievous little Delta.. Badgey! This version is the Happy version! Badgey is 1 1/2" tall.
LLAP!
TM & © 2020 FanSets, LLC ARR
Payment & Security
Your payment information is processed securely. We do not store credit card details nor have access to your credit card information.