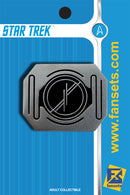 Description
Limited Quanties
The Fenris Rangers were an organization active in the late 24th century, based on Fenris. They were considered vigilantes. They operated Corsairs, and kept their money on Freecloud.
Memory Alpha
Product Description
From Star Trek: Picard comes Fenris Ranger Logo Calling Card as a collectible FanSets pin! Each pin is fully licensed and designed to stand in our clear plexi FanStands so you can display your collection!
Approximately 1 inch wide (2.54 cm)
Easy to display with FanStands (sold separately)
Quality rubber pin backs
Officially licensed Star Trek product
Backer card that can be used for display
Payment & Security
Your payment information is processed securely. We do not store credit card details nor have access to your credit card information.