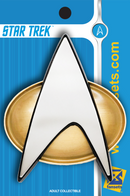 Description
We proudly present the Delta from Star Trek: The Next Generation!! It's the one you have been waiting for!

This delta comes to you directly from Star Trek The Next Generation.  It is full size.  While manufactured with FanSets normal attention to detail this was not created to be a cos-play piece. The delta features a matte brushed metal finish.  The magnetic and pin versions have two horizontal magnets or clutches to hold it securely in place. This delta is not a prop replica.
Payment & Security
Your payment information is processed securely. We do not store credit card details nor have access to your credit card information.