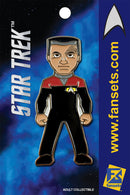 Description
Chakotay from Star trek: Voyager
Pin measures approximately 2" tall
The inclusion of a Native American character in Star Trek: Voyager was suggested at an early stage in the development of the series. The producers were looking for an ethnic background which had not been seen before as a main character in the franchise.
Actual color may vary from image.
Payment & Security
Your payment information is processed securely. We do not store credit card details nor have access to your credit card information.