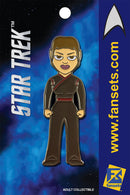 Description
Pins shown larger than actual size for detail.  Actual Size = 2"
(final product may vary from image shown)
Quote "If anything happens to you, the Vulcan High Command will hold me responsible."

T'Pol was a Vulcan who served aboard Enterprise NX-01 in the mid-22nd century. She was the first Vulcan to serve aboard a Human ship for any substantial period.-Memory Alpha.
TM & © 2016 FanSets, LLC ARR
Payment & Security
Your payment information is processed securely. We do not store credit card details nor have access to your credit card information.