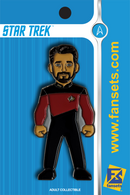 Description
Our NEW William "#1" Riker pin is here! It replaces the V1 pin which is now in the Vault and retired!
Commander Riker from Star Trek: The Next Generation
Riker is portrayed as a bold, confident and sometimes arrogant, ambitious young officer; however, over time Riker's character becomes more reserved, as experience teaches him the wisdom of a patient, careful approach. He becomes comfortable on the Enterprise, repeatedly turning down offers of his own command, and he learns to cherish the company of his fellow officers.
Actual color may vary from image.
Payment & Security
Your payment information is processed securely. We do not store credit card details nor have access to your credit card information.