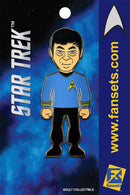 Description
Pins shown larger than actual size for detail.  Actual Size = 2"
(final product may vary from image shown)
Quote "I'm a doctor, not a..." or "He's dead, Jim."
The passionate, sometimes cantankerous McCoy frequently argues with Kirk's other confidant, science officer Spock, and occasionally is bigoted toward Spock's Vulcan heritage. McCoy often plays the role of Kirk's conscience, offering a counterpoint to Spock's logic. McCoy is suspicious of technology, especially the transporter; as a physician, he prefers less intrusive treatment and believes in the body's innate recuperative powers.
TM & © 2016 FanSets, LLC ARR.
Payment & Security
Your payment information is processed securely. We do not store credit card details nor have access to your credit card information.