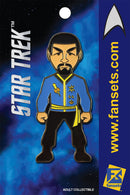 Description
Pins shown larger than actual size for detail.  Actual Size = 2"
Quote "Terror must be maintained or the Empire is doomed."
Spock was the Terran/Vulcan hybrid first officer of the ISS Enterprise in 2267. He was a logical being who was loyal to his captain, James T. Kirk, and chose to warn him when he was ordered by the Terran Empire to kill him and take command if he did not launch an attack against the Halkans in retribution for their refusal to negotiate with the Empire.-Memory Alpha
TM & © 2016 FanSets, LLC ARR.
Payment & Security
Your payment information is processed securely. We do not store credit card details nor have access to your credit card information.