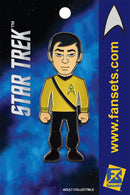 Description
Pins shown larger than actual size for detail.  Actual Size = 2"
Quote "Aye, sir. Warp speed."
Sulu was a sciences division officer serving aboard the USS Enterprise in 2265, under the command of Captain James T. Kirk. He was the department head of the Astrosciences Department.-Memory Beta
TM & © 2016 FanSets, LLC ARR.
Payment & Security
Your payment information is processed securely. We do not store credit card details nor have access to your credit card information.