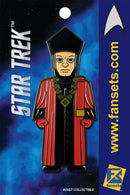 Description
Pins shown larger than actual size for detail.  Actual Size = 2"
Quote "If you can't take a little bloody nose, maybe you ought to go back home and crawl under your bed. It's not safe out here. It's wondrous, with treasures to satiate desires both subtle and gross. But it's not for the timid."
Q became a recurring character, with pronounced comedic and dramatic chemistry between himself and Jean-Luc Picard. He serves as a major antagonist throughout The Next Generation, playing a pivotal role in both the first and final episodes. Q is initially presented as a cosmic force judging humanity to see if it is becoming a brutal threat to the universe, but as the series progresses, his role morphs more into one of a teacher to Picard and the human race generally – albeit often in seemingly destructive ways and subject to his own amusement.
TM & © 2016 FanSets, LLC ARR.
Payment & Security
Your payment information is processed securely. We do not store credit card details nor have access to your credit card information.