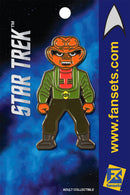 Description
Pins shown larger than actual size for detail.  Actual Size = 1 3/4"
Quote "All I ask is a tall ship - and a load of contraband to fill her with."
Quark loved his brother Rom, and occasionally even found him useful. Nonetheless, in true Ferengi fashion, he treated Rom with little respect and ordered him about like a servant. Quark was also fond of swindling Rom out of his share of the bar's profits.
TM & © 2016 FanSets, LLC ARR.
Payment & Security
Your payment information is processed securely. We do not store credit card details nor have access to your credit card information.