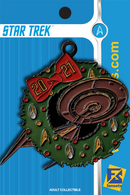 Description
Inspired by the Hit Show STAR TREK: DISCOVERY! 
Celebrate the 2021 Holiday season with the crew of the Discovery as we JUMP into 2022! THis limited edition pin is only available for a short time and will NEVER be made again. No more will be made!  Last years sold out in 2 days! DONT MISS OUT! 
Limit 3 per customer!!!
Lets keep these in the hands of the fans, not the scalpers on ebay.
Any order with more then 3 will be cancelled. DON'T BE ON THE NAUGHTY LIST!
MERRY CHRISTMAS AND HAPPY HOLIDAYS FROM YOUR BIGGEST FANS AT FANSETS!!
LLAP
Payment & Security
Your payment information is processed securely. We do not store credit card details nor have access to your credit card information.