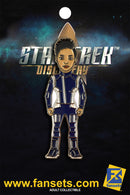 Description
SOLD OUT AND GONE FOR GOOD!
After the court martial Lt. Commander Michael Burnham was stripped of all her rank. After being offered a chance for redemption, a chance to end the war everyone thinks she started, she must now wear a uniform devoid of rank.
Payment & Security
Your payment information is processed securely. We do not store credit card details nor have access to your credit card information.