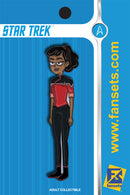 Description
Approximately 2 inches (5.08 cm)

Easy to display with FanStands (sold separately)
Quality rubber pin backs
Officially licensed Star Trek product
Backer card that can be used for display
*In the 2350s, Mariner and his wife Carol Freeman had a daughter, Beckett Mariner. All three were or became members of Starfleet.
Beckett served on the USS Quito by 2379. Beckett's insubordination landed her in the ship's brig several times, which she enjoyed. The Quito made first contact with the Galadonians. Sometime after, Beckett, demoted to ensign, was reassigned to her mother's ship, a California-class vessel.
On stardate 57436.2, Captain Freeman of the USS Cerritos spoke with Mariner over subspace about their daughter who served on her mother's ship for a year by then. The relationship between all three was strained due to Beckett's conduct.
 *MEMORY BETA

Payment & Security
Your payment information is processed securely. We do not store credit card details nor have access to your credit card information.