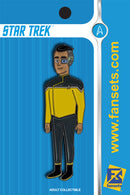 Description
Approximately 2 inches (5.08 cm)

Easy to display with FanStands (sold separately)
Quality rubber pin backs
Officially licensed Star Trek product
Backer card that can be used for display
*Rutherford was assigned to the Federation starship USS Cerritos as an ensign by the year 2380. He wore a metallic cybernetic component over the left half of his skull, with a blue, rectangular visor for his eye.
During a viral outbreak stardate 57436.2, Ensign Rutherford assisted Lieutenant Shaxs and the rest of the senior staff in retaking the ship. He dated Ensign Barnes. Later, he befriended the newly arrived Ensign D'Vana Tendi, and they discussed his experience with dating and red alert protocol in the mess hall.  
*MEMORY BETA
Payment & Security
Your payment information is processed securely. We do not store credit card details nor have access to your credit card information.