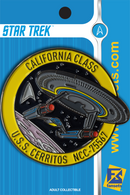 Description
The Cerritos is finally here!! 
Approximately 2 inches (5.08 cm)

Easy to display with FanStands (sold separately)
Quality rubber pin backs
Officially licensed Star Trek product
Backer card that can be used for display
*In the year 2380, the Cerritos was under the command of Captain Carol Freeman, being docked at Douglas Station where it took on new personnel before it set course for the Galardonian homeworld to deliver Federation infrastructure. While on the planet, first officer Jack Ransom was bit by an insect which caused a viral infection to spread across the ship when he beamed aboard, driving the crew into a murderous rage. Concurrently, Ensigns Beckett Mariner and Brad Boimler ran afoul of more local wildlife, Boimler bringing back a substance that was synthesized into a cure. To Boimler's ire however, only Chief medical officer T'Ana was given credit for this by captain Freeman.
 *MEMORY BETA

Payment & Security
Your payment information is processed securely. We do not store credit card details nor have access to your credit card information.