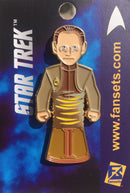 Description
Security Chief Odo as he emerges from his bucket! His Changeling abilities were key to maintaining security on Deep Space Nine...Just ask Quark!
TM & © 2018 FanSets, LLC ARR
Payment & Security
Your payment information is processed securely. We do not store credit card details nor have access to your credit card information.