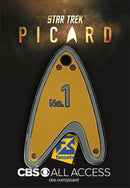 Description
From the Hit CBS All Access Show STAR TREK: PICARD!! #1, Picard's new sidekick is taking the Trek world by storm and is a internet sensation!
This Collectible, Replica pin is styled just like the one in the show! Not intended for pet use but how you use it is up to you.
LIMIT 5 PER CUSTOMER!
LLAP!
TM & © 2019 FanSets, LLC ARR
Payment & Security
Your payment information is processed securely. We do not store credit card details nor have access to your credit card information.