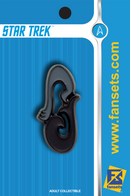 Description
The SS La Sirena (NAR-93131), or simply Sirena, was an unregistered Kaplan F17 Speed Freighter owned and operated by Captain Cristóbal Rios!  
This NOT part of our Deltas collection. It is representation of what was seen on the show.
Payment & Security
Your payment information is processed securely. We do not store credit card details nor have access to your credit card information.