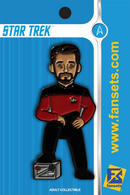 Description
THE POSE!!
The Riker Pose is famous among #StarTrek fans! 
Commander Riker doing the Rike Pose from Star Trek: The Next Generation
Riker is portrayed as a bold, confident and sometimes arrogant, ambitious young officer; however, over time Riker's character becomes more reserved, as experience teaches him the wisdom of a patient, careful approach. He becomes comfortable on the Enterprise, repeatedly turning down offers of his own command, and he learns to cherish the company of his fellow officers.
Payment & Security
Your payment information is processed securely. We do not store credit card details nor have access to your credit card information.