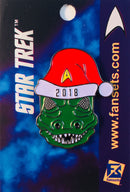 Description
Our FIRST EVER Christmas/Holiday Pin. We will produce a different one every year. Inspired by Santa Gorn that roams the halls of STLV and our good friend Jeff Hulit at the Tri-corder Transmissions! Limited to ONLY 100 pieces and only available in Dec 2018. If any product remains we will have them at STLV 2019. 
LIMIT 5 PER CUSTOMER
LLAP!
TM & © 2018 FanSets, LLC ARR
Payment & Security
Your payment information is processed securely. We do not store credit card details nor have access to your credit card information.