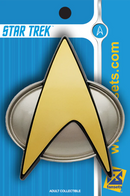 Description
Star Trek: TNG ACTING ENSIGN Delta V1 Licensed FanSets Magnet

Officially Licensed!
This Delta comes to you directly from the Star Trek: The Next Generation.  It is full size.  While manufactured with FanSets normal attention to detail this was not created to be a cos-play piece and is a magnet.  The Delta features a gold delta over a matte finish silver nickel. Two earth magnets will hold for common display purposes. This Delta is not a prop replica.
Wes took his exam on Starbase 515, passed, and was offered a position at the Academy. His entry had to be moved to early 2367 when he remained aboard the Enterprise to help locate Commander Riker and Deanna Troi after they were captured by the Ferengi. Thanks to his actions, Riker and Troi were rescued, and Picard field-promoted Wesley to ensign.
Wesley's role of helmsman aboard the Enterprise, despite his civilian status, was disapproved of by some Starfleet officers, including Edward Jellico. In his time aboard the Enterprise, Wesley gained the nickname "Brain Trust", a name he was not particularly fond of.
Details of this Delta can be found below.
https://www.yourprops.com/Comm-Badge-Acting-Ensign-original-movie-costume-Star-Trek-The-Next-Generation-TV-1987-YP809585.html
Payment & Security
Your payment information is processed securely. We do not store credit card details nor have access to your credit card information.