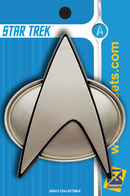 Description
Star Trek: TNG ACTING ENSIGN Delta V2 Licensed FanSets Pin

Officially Licensed!
This pin comes to you directly from the Star Trek: The Next Generation.  It is full size.  While manufactured with FanSets normal attention to detail this was not created to be a cos-play piece and is a pin, not a magnet.  The pin features a silver delta over a matte finish silver nickel.  Both layers are metal and the pin has two posts/clutches to hold it securely in place. This pin is not a prop replica.
Details of this Delta can be found below.
https://www.yourprops.com/Comm-Badge-Acting-Ensign-original-movie-costume-Star-Trek-The-Next-Generation-TV-1987-YP809585.html
Payment & Security
Your payment information is processed securely. We do not store credit card details nor have access to your credit card information.