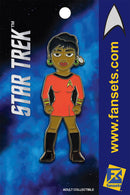 Description
Pins shown larger than actual size for detail.  Actual Size = 2"
Quote "Mr. Spock, sometimes I think if I hear that word 'frequency' once more, I'll cry."
Nayota Uhura first appears in the episode "The Man Trap," joining the crew of the USS Enterprise as a lieutenant, and serves as chief communications officer under Captain Kirk. She is depicted as a capable bridge officer and readily manned the helm, navigation and science stations on the bridge when the need arose. Uhura was also a talented singer, and enjoyed serenading her shipmates when off-duty; Spock occasionally accompanied her on the Vulcan lyre.
TM & © 2016 FanSets, LLC ARR
Payment & Security
Your payment information is processed securely. We do not store credit card details nor have access to your credit card information.